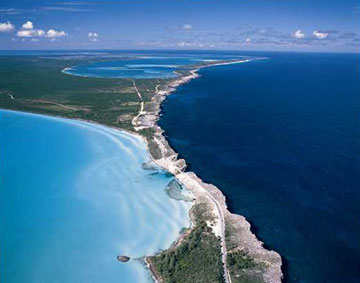 Happy August! It's the last month of summer and things have been quite crazy over here! We just finished a wild move from our rental house to base housing so things have been pretty hectic for the last two weeks or so -- especially since Dad was in the Bermuda Triangle(Bahamas) shooting rockets the whole time! :-o Oh the training that goes into being a helicopter pilot. :)
We are finally settled into our new home and really love it. The house is absolutely gorgeous and larger than our last house, and when it comes to have 8 kids in the house -- six of them being boys -- the more room, the better! ;)
It's pretty cool because the beach is a 5 minute walk away. The base is pretty big but our house is situated just perfectly so that we are two streets away, and where we go is secluded so we have this long stretch of beach all to ourselves. Talk about awesome! I don't like swimming at the beach at all, but walking along the shore with my dog, Jack, is really fun.
I've been getting a LOT of reading done in the last week. In the last 6 days I've read 7 books, so be prepared for a LOT of reviews this week! I'm getting caught up slowly but surely. ;)
So, to celebrate the awesome summer, we're going to have a
big bash today
. Yep I decided to do this about 12 seconds ago. :P But today I have so much to post on this blog -- might as well make it a celebration! :D
So, I will be giving away a copy of Summer Dream to one lucky follower! Also, later today I'll be featuring one of my favorite authors on my blog -- T.L Higley! Along with an interview, we will be giving away a copy of her newest release, Pompeii -- so check back often!
I also have not one, not two, but THREE reviews to post today, along with a tour! I have so many book reviews to post, it's crazy!
So today let's celebrate the first day of the last month of summer!

To win Summer Dream:
REQUIRED ENTRY:


Follow this blog via GFC and leave a comment saying what your favorite memory this summer was!.

Leave your email address or your entry will not count!! This giveaway ends August 19th.
For Extra Entries:
Comment on another review of mine (+1 per comment - maximum amount of entries is 3)
Subscribe to this blog(+1)
Post about our giveaway on your blog(+2)
Twitter this giveaway(+1 per tweet per day)
Follow me on
Twitter
(+1)
Digg this post and any other post(+2 entries per Digg per post)