ABOUT THE BOOK: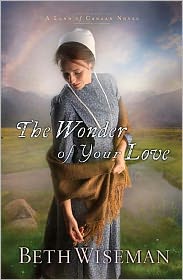 Katie Ann lost the love of her life. Then God offers her a new beginning in Colorado. Katie Ann Stolzfus lives in the small Amish community of Canaan, Colorado. At forty she is widowed and raising her first child. But baby Jonas will never know his father, and Katie Ann wonders if her Heavenly Father hasn't forgotten about her as well. Is it really God's plan for her to be a single parent? Eli Detweiler has come to Canaan for a wedding and a long vacation. Having raised six children following the death of his young wife, Eli is finally an empty-nester. He's enjoying the slower pace of having no one to care for but himself. When Katie Ann and Eli meet, there is an instant connection. Yet as strong as the attraction is, they both acknowledge that a romance would never work. He is done parenting, while she has just begun. But as their friendship slowly blossoms into feelings that are as frightening as they are intoxicating, Katie Ann and Eli question if the plans they made for themselves are in line with God's plans. Can Katie Ann entrust her heart to another man, and rediscover the wonder of God's love?






ABOUT THE AUTHOR:


Beth Wiseman is hailed as a top voice in Amish fiction. She is a Carol-award winner and author of numerous bestsellers including the Daughters of the Promise series and the Land of Canaan series. She and her family live in Texas.
www.bethwiseman.com, Twitter @bethwiseman, www.facebook.com/pages/Fans-of-Beth-Wiseman/47576397539






PARTY!


Beth is celebrating the release of Book 2 in the Land of Canaan series with a Fabulous Facebook party on November 1st. She'll be giving away one of her OWN paintings, several mini prize packs and a sneak peak at the next book in this heartwarming series. CLICK the button (below) to RSVP for the party - then join us on November 1st for a book chat, Amish themed trivia contest, and more!
The Wonder of Your Love Facebook Party on 11/1!



Buy the book HERE!
Check out everyone else's reviews
here!
The Review:
My Ranking: 8 out of 10
Ages 15 & up
Having read Seek Me With All Your Heart, I knew I was in for a treat when I picked up it's sequel, The Wonder of Your Love. I had already come to sympathize with and love Katie Ann, so I was excited to read the rest of her story.
Beth Wiseman has a special way of touching the hearts of her readers. I was instantly captivated by her story of forgiveness and love, and easily fell in love with her endearing, realistic characters. Wiseman has definitely written a keeper.
Sensuality:
This book deals a bit with adultery but does not go into physical detail, just brings up past sins.
There are a few brief kisses, none described in unnecessary detail.
All around, I highly recommend this book!