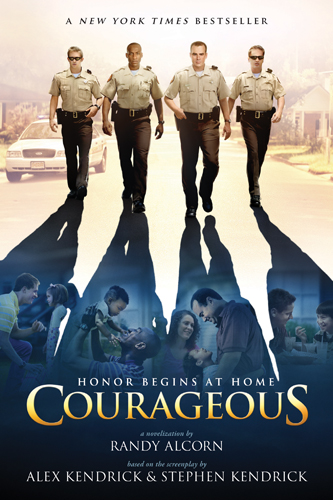 From the creators of Fireproof comes an inspiring new story about everyday heroes who long to be the kinds of dads that make a lifelong impact on their children. As law enforcement officers, Adam Mitchell, Nathan Hayes, and their partners willingly stand up to the worst the world can offer. Yet at the end of the day, they face a challenge that none of them are truly prepared to tackle: fatherhood. While they consistently give their best on the job, good enough seems to be all they can muster as dads. But they're quickly discovering that their standard is missing the mark.
They know that God desires to turn the hearts of fathers to their children, but their children are beginning to drift farther and farther away from them. Will they be able to find a way to serve and protect those who are most dear to them? When tragedy hits home, these men are left wrestling with their hopes, their fears, their faith, and their fathering. Can a newfound urgency help these dads draw closer to God . . . and to their children?
The Review:
My Ranking: 8 out of 10
Ages 16 & Up
Many of you have seen Facing the Giants, or/and Fireproof, and are eagerly awaiting the release of Sherwood Film's next movie, Courageous. I have been waiting for this movie to release for more than a year now, and am so excited that it's almost time! When an opportunity to review Courageous, the book, I immediately took hold of the chance; and boy am I glad I did!
Each character was a joy to get to know. Nathan was my favorite, I think, but Adam, David, Bronson, Javier, and all the rest of the characters were great. I liked watching them resolve each of the different problems they had in life, mostly with their families, and seeing how God can work through even the most tragic of circumstances.
Each of the main characters have a different story to tell, and a different lesson to be learned. I loved how Alcorn incorporated all of the different elements from each different man and his family. I would have imagined that reading a book with so many main characters would be confusing, but it wasn't in the least and I followed along really easily.
Victoria, Adam's wife, though, really got on my nerves. For the first half of the book, all she seemed to do was pester her husband. He wasn't hanging out with the kids enough, he forgot this, he should "really spend more time with him"(his son). Nagging all the time. She was not the submissive wife she should have been, and while I agree with her that Adam should have been participating in his family more, I don't blame him for lingering at work when he had her bickering to come home to each night.
Sensuality:
It mentions that boys without fathers are fourteen times more likely to commit rape.
Mentions briefly how God saved a man's marriage and saved him from pornography.
One man had a father who split after he committed adultery. No details, just retold very simply.
One of the main characters tells about his past and how he was born from artificial insemination.
A main character mentions how he hooked up with a girl in highschool and she became pregnant.
Other:
Deals with drugs continually throughout the book, but puts them in a bad light.
All around, this was a great book and I am dying to see the movie! I highly recommend this book. The lessons taught in it were astounding and really impacting. This is definitely a book I encourage you to read!
I received this free book in return for an honest review from Netgalley. All thoughts and opinions expressed in this review are my own.