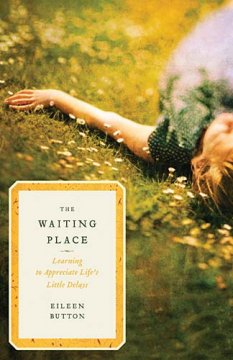 A collection of essays describing the beauty and humor that can be found in what often feels like a most useless state-The Waiting Place.
We all spend precious time just waiting. We wait in traffic, grocery store lines, and carpool circles. We wait to grow up, for true love, and for our children to be born. We even wait to die. But amazing things can happen if we open our eyes in The Waiting Place and peer into its dusty corners. Sometimes relationships are built, faith is discovered, dreams are (slowly) realized, and our hearts are expanded.
With humor and heart-breaking candor, Eileen Button breathes life into stagnant and, at times, difficult spaces. Throughout this collection of essays she contends that The Waiting Place can be a most miraculous place-a place where beauty can be experienced, the sacred can be realized, and God can be found working in the midst of it all.


The Review:
My Ranking: 10 out of 10
Ages: 14 & up


The Waiting Place was a remarkable book that will be staying in my shelf forever. It was absolutely amazing. Button's humorous writings made me laugh continuously while the impact of each lesson hit me full force and caused me to step back and take a look at my own life.

The main message of this book was found in a few simple words -- "In life you have to wait. Its how you wait that matters."
What a profound statement! Truth rings through it, and it really makes a person step back and evaluate their life. Especially mine, as I find myself waiting for a lot at this stage of life -- mainly to move back to the place I call home. But, as Button so wonderfully puts, sometimes you life's unexpected joys in the waiting place.

The content was mild.

Sensuality:

Button mentions on a few occasions being tangled or snuggling in her husband's arms, and also a part where she's discussing her kids and how her and her husband won't have to worry about the kids hearing them "making love" after they're out of the house.
There is a card she reads that says "Do your boobs hang low, do they wobble to and fro, can you tie them in a knot, can you time them in a bow?" off the old "Do your ears hang low" song.
Something minor that I thought I should mention is that Button calls the chuch her husband's "mistress" because she has to fight for time with him(her hubby is a pastor).

All in all, this was an amazing, incredible book that I HIGHLY recommend!

I received this free book in return for an honest review from Book Sneeze. All thoughts and opinions expressed in this review are my own.