Hello readers! Today I am happy to welcome Kathi Macias, author of the Extreme Devotion series and several other great books, to Reviews By Jane!
First off, would you mind telling us a bit about yourself and something about you that might surprise your readers?
In addition to being a wife, mother, grandmother, and (YES!) a great grandmother, I'm a Harley rider (with my hubby) known as "Easy Writer."
Oh that's cool! My parents LOVE riding too! My dad even has the 100th Anniversary Road King. :-)
What inspired you to write your Extreme Devotion Series, including No Greater Love, More Than Conquerors, Red Ink, and soon to be released People Of The Book?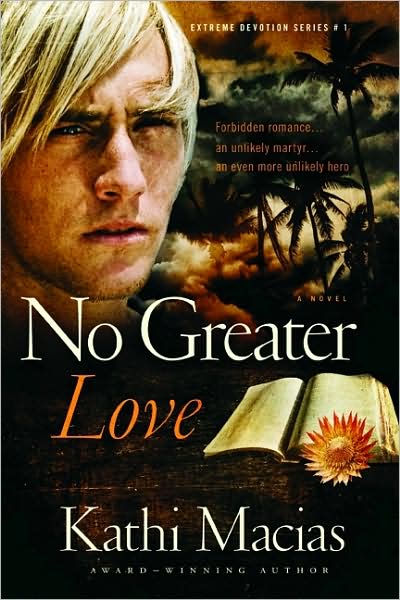 I have long wanted to write No Greater Love, ever since I watched the violence and upheaval unfold in South Africa during the late '90s just before the fall of Apartheid and the release of Nelson Mandela from prison. It started me thinking of what it must be like to be a Christian living in such a situation. The story naturally led to similar questions about believers in other countries. After many years of considering the idea and looking for the right publisher, I'm thrilled that it has finally become a reality.
What prompted you to write in the the different countries - Africa, Mexico, China, and Saudi Arabia - that you chose?
Again, the truth of what was happening in South Africa required that the book be set there, and the others just followed. With the modern-day persecution of Christians around the world, I could actually have written many more such books in various countries.
How has your faith influenced your writings?
I can't imagine writing any way except as I do—through the lens of the eyes and heart of faith that God has given me. Everything else is upside down and meaningless. Without a spiritual foundation for my stories, I would have nothing of value to offer my readers.
Did you base any of your characters on people you really know?
Indirectly. I don't actually know Li Ying (as far as having met her personally), the lady who was my inspiration for Red Ink, but I feel as if I do. I first learned of her plight (serving a ten-year prison sentence in China for printing/distributing Christian literature) through Voice of the Martyrs. I follow her story through VOM's updates and pray for her daily. It was a natural to base my main character, Zhen-Li, in Red Ink on the life and story of Li Ying, my own personal hero.
Oh yes - I found that very intriguing how you based that off of a real person's life.
Which book was your favorite to write?
I have to say that whatever book I'm working on at the time is my favorite, but I suppose if I had to pick one it would be No Greater Love, just because it "percolated" for nearly 20 years before I got the opportunity to write it. What a joy it was to watch that story unfold!
That's cool! I really enjoyed No Greater Love, too!
When you started writing, where did you begin? With an outline? Or did you just jump into it and let the story form as you wrote?
When I write nonfiction I usually have at least some sort of loose outline, but with fiction I have a starting place, an ending place, and a desired takeaway. Everything else surprises me through the lives of my characters as I tap, tap, tap on my keyboard.
You've written and published many books, fiction and non-fiction. Which one required the most research? Which took the longest time to write?
This series has required the most research because it's my first international series. Of the four countries covered in the books (South Africa, Mexico, China, and Saudi Arabia) I have been to only one, which is Mexico, so the research was intense for all of them. None took long to write, as I was on a tight deadline with all of them. I generally write three or four books a year, so it keeps the old "nose to the grindstone," to say the least! (Good thing I don't believe in writer's block!!!)
As Red Ink is my favorite in your series I will use this one - Who would you have play Zhen-Li if your book was made into a movie?
I am so bad about knowing actors by name that I wouldn't have a clue whom to suggest, but I'd love it if one of your readers/followers offered a suggestion or two!
Hear that readers? If you've read Red Ink, who do you think would play a good Zhen-Li?
Who is your favorite author?
That's a tough one, as I have many, but my all-time favorite novel is the one that helped solidify my desire to write No Greater Love, and that's Cry the Beloved Country by Alan Paton. What a life-changing book! I highly recommend it.
Hmm I've never heard of him. I'll have to look into that!
Can you give us some insight on the fourth book in your series, People Of The Book - releasing April 2011?
People of the Book releases in April 2011. It is set in Saudi Arabia (primarily) and the Pacific Northwest (Washington State) secondarily. Two young women from Saudi Arabia connect with a young woman of Muslim descent (now a devout Christian) at a Saudi women's chatline (something that is quite common in that country, as it is one of their few outlets to express themselves or have contact with the outside world). The three young women soon find their lives intertwined by a startling faith in Isa (Jesus) that the two Muslim girls had never even considered before. The results will touch the readers in ways they can't even begin to imagine.
That sounds VERY interesting! I can't wait for it's release!
How can our reader's reach you?
I have two website and a blog: www.kathimacias.com;
http://www.thetitus2women.com/
;
http://kathieasywritermacias.blogspot.com/
Readers can email me from the first two and leave comments on the third. I'd love to hear from them! I'm also on Facebook and Twitter.
Thanks so much for being willing to do an interview and giveaway with us!
Ok, wasn't that an awesome interview!? I had a blast learning about Mrs. Macias. Thanks again!
---
Not only has Mrs. Macias been gracious enough to allow me to interview her, but she is also willing to giveaway a book in her Extreme Devotion series. As to which one, well that depends on the winner's choice! One winner will be able to choose whether they would like to receive No Greater Love, More Than Conquerors, or Red Ink. To enter, simply follow this blog and leave a comment with your email address! It's that simple! This giveaway IS available internationally!
For Extra Entries:
Subscribe to this blog(+1)
Post about our giveaway on your blog(+2)
Twitter this giveaway(+1 per tweet per day)
Comment on a post on my other blog, Book Ponderings(+2)
Add the button in the post below for the blog party on my friend's blog to your blog's sidebar(+1)
Add the Harry Potter Review button on my sidebar to your blog(+2)
Hurry and enter! This giveaway ends on
Friday, January 21st!!